I hope all the Father's reading this had a happy Father's Day this past Sunday, that you each felt loved by your family, and were able to reflect on the love of your own father. I hope you were able to think of how much your life has changed since becoming a father, and how much your perspective in life has been more focused as you saw the dependency and the trust of your little ones looking up at you- with your own reflection in their eyes.
This past week, I have been thinking a lot about perspective.
Our mission here, the Utah Salt Lake City Temple Square Mission may have the smallest proselyting area of all the missions in the world, but our outreach is worldwide. Our mission really doesn't have boundaries. It has changed my life to hear from people around the world, the ways that God has helped them in their life. Each additional day I spend out here, my testimony becomes more and more fortified in the Plan of Salvation, and that basic yet oh so essential truth that we are children of God.
This last Sunday I was incredibly sick, (yes, missionaries still do get sick sometimes!), and I felt so sad that I wasn't able to go out and work in the way that I so longed to. In a quiet room, I knelt and prayed and told God I would rest for a little bit, but then I wanted Him to put me to work. I didn't want to be kept from my brothers and sisters any longer- that I would have this unique opportunity to talk with them here at Temple Square, when I most likely wouldn't have met them otherwise. I felt the reassurance from my Father in Heaven so quietly saying, "You rest, and then I'll let you work."
Here's our best friend Anderson from Nigeria! Oh how we love him! We are now teaching his brother and two of his best friends! :) I LOVE being a missionary!
Sister Opeda had an assignment for two hours that night at the Eternal Families desk in the South Visitor's Center. This is the sister's favorite desk because we are in charge of playing different "I'm a Mormon" videos for the guests to see as they come inside. You can see some here (http://www.mormon.org/people). I love seeing the stories of the people from around the world and how the gospel has changed them for the better and strengthened their faith in Jesus Christ.
Sister Opeda and I are making the most out of our last week together with teaching and carmel apples!
While standing there, a young girl from mainland China named Helen came in and spoke to me.
She so innocently and forwardly said, "Now I really believe in God, but can you tell me what He looks like? Who is He?"
I paused a moment, listened to the still small voice of the Spirit, and ran back behind the desk to grab a restoration pamphlet in Chinese (https://www.lds.org/search?lang=eng&query=restoration+pamphlet--the first link). I opened it up to the photo of Joseph Smith's first vision, where he saw God the Father and His Son, Jesus Christ.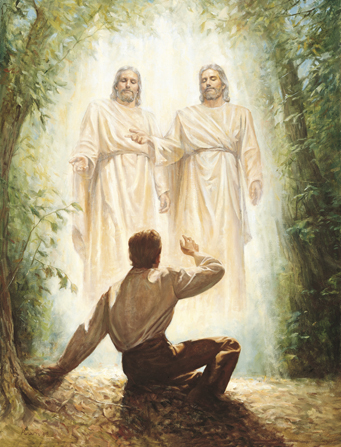 Helen just looked at the picture in awe, pointed to our Father in Heaven and said, "This one, this is Him?"
I smiled and pointed to the words of Joseph Smith himself, recounting this experience. It was in Chinese, so I was not able to read it, but I asked her to read it for us. As she read and translated out loud for us, what began as casual words, turned into quiet words of respect and awe. I've never seen someone so humbled by Joseph Smith's first vision, but his prophetic experience in seeing our Heavenly Father and His Son Jesus Christ.
"I really know and feel that this is really what God looks like," Helen said.
Our beautiful South 2 zone family after our final zone training meeting!
What a blessing it was to be able to remind someone of their own Father in Heaven, and to see in her eyes that she could see so much of herself in the faces she saw in front of her.
It comes back to perspective once more, and as I reflected on this experience last night, I thought of the First Vision of Joseph Smith with a new perspective than I had ever before thought.
It was a polka dot day!
In the First Vision, Joseph Smith didn't see himself, he saw the way God and Jesus Christ were looking at him. He knew God had a vision for him, even though he didn't yet have one for himself.
How often are we given tasks we feel are overwhelming, or too grand for us to handle, and we ask the Lord to give us a greater perspective of ourselves to give us the power and the endurance to press forward? We always want our Father in Heaven to be able to show us ourselves, when really the greatest thing He can do, is reveal more about His true nature to us as His children.
As the new AP I'll get to work with Sister Taylor (my companion for 2 transfers) a lot! She's in the office too!
For Joseph Smith in that moment, from what we know, he didn't envision himself becoming a prophet, he wasn't seeing himself go through all that was ahead, but he saw that God looked at him as his son and as the prophet of the restoration. Brothers and Sisters, once again, the prayer that changed the world of Joseph Smith was a vision of who God was and His perspective of who we are to Him.
This has been so remarkably comforting as I have been asked by President Poulsen, our mission president, to be the new AP (Assistant to the President) in the Utah Salt Lake City Temple Square Mission. Although I feel humbled, overwhelmed, and much more, I feel confidence as I know that this is how the Lord sees me. I feel hope knowing that the Lord is in control, and that even if I do not see myself in this vision, I can see Him looking at me, and how I love Him for that.
beautiful tender mercy from the Lord! He knows how much I love sunsets :)
I love you all and want you each to have a great week! Thank you for everything!!!
Sincerely,
Sister Briggs :)
SHOUTOUTS: Mom, Dad, Bryan, Robert Donakey, Brother & Sister Donakey, Mary, Becca, Sara, Sean Burton (I'm sorry I didn't see you at Temple Square!), Sterling and his cute fiance ( I missed seeing you Sunday!) Courtney and Ivy (I'm so happy I saw you!), Chelsea Wilcox (so happy for you!), Sister Yuma, Sister Kilian, Sister Peggy K, Sister Purcell, Cindy Mars, Sister Sanger (thank you all for the notes and package!)