Hi everyone! Happy Early Pioneer Day! I had never really known about Pioneer Day, celebrated every 24th of July, until I came up to Utah for school back in 2009. Pioneer day was always exciting with all the fireworks, parades and BBQs, and now I really feel that there may be no greater place to celebrate Pioneer Day than here at Temple Square in Salt Lake City, Utah.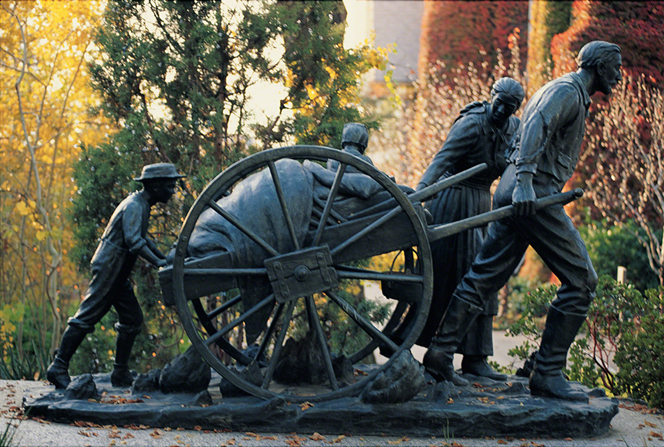 The most photographed monument here on Temple Square is a monument of a pioneer family crossing the country to come here to the Salt Lake Valley.
It amazes me and humbles me to think they had no knowledge of where they would go, no knowledge of how they would survive, no knowledge of where they would rest their head each night, how they would provide for their little ones, but the knowledge they did have was enough to face any adversity that was headed their way. They walked into this with the knowledge that difficulties would come, but this knowledge was accompanied by the greatest knowledge anyone could ever have--that their Savior was aware of them, that they were sent a living prophet of God to follow, that they were taking steps of faith not only for themselves, but for all of us to come after them.
My mission has meant absolutely everything to me, and I know that the pioneers would say the same. I'm sure there were moments where their hearts hurt so badly they felt they couldn't press forward, but none has ever regretted their journey for the relationship it molded and formed, the bond is strengthened between these people and their Maker, between them and their Redeemer. One of the members of the Martin Handcart Company bore a powerful witness of this one night while gathered with many others in the Valley. I feel such a love for these Pioneers each time I recite and share these words with those who come onto Temple Square, and it brings me nothing but joy to share them with you all now.
He said...
"'I have pulled my handcart when I was so weak and weary from illness and lack of food that I could hardly put one foot ahead of the other. I have looked ahead and seen a patch of sand or a hill slope and I have said, I can go only that far and there I must give up, for I cannot pull the load through it.'" He continues: "'I have gone on to that sand and when I reached it, the cart began pushing me. I have looked back many times to see who was pushing my cart, but my eyes saw no one. I knew then that the angels of God were there.
"'Was I sorry that I chose to come by handcart? No. Neither then nor any minute of my life since. The price we paid to become acquainted with God was a privilege to pay, and I am thankful that I was privileged to come in the Martin Handcart Company.'
Brothers and Sisters, I testify with all my heart that these were real people, with real faith, real determination, and with real angels to pull them through what their Father in Heaven had asked of them. A successful journey in our eyes and in the eyes of the world may mean health, safety, comfort, reaching the destination, but with our Father in Heaven and the eyes of Heaven, He sees the health of our spirits, the safety the comes from the promises we make with Him as a team, the comfort of the Holy Ghost and reaching the destination of His presence once again.
In The Book of Mormon, we can read a promise from our Father in Heaven that nothing He ever gives us can separate us from feeling joy as we remember our Savior.

"And the Lord provided for them that they should hunger not, neither should they thirst; yea, and he also gave them strength, that they should suffer no manner of aafflictions, save it were swallowed up in the joy of Christ. Now this was according to the prayer of Alma; and this because he prayed in bfaith." (Alma 31:38).
No matter who we are, may we each celebrate Pioneer day this week with a focus on the knowledge that God will always fulfill His promises to us. His promises do not change by the circumstances we may find ourselves in--whether they be joyous or sorrowful. Have hope and confidence that it will all work out, and it will in a way that refines you and brings you greater knowledge than that which you started with.

I love you all and really want the best for you all! I hope that what I have shared makes you smile, invites the Spirit and gives you a motivation to go out and to serve those around you who find themselves in difficult situations at this time. God accomplishes His miracles through people like you.
Sincerely,
Sister Briggs

SHOUTOUTS: Jessica Helm, Mom & Dad, Lauren Moran, Caroline Slater, Nicky Lin, Grandma Jeanie, Sister Pickerell, Robert Donakey, Mary, Becca, Sara, Liz, Barry, Brother & Sister Donakey.